DIS PRESENTS:
WHAT
DO
PEOPLE
DO
ALL
DAY?
15.10.2020–18.11.2020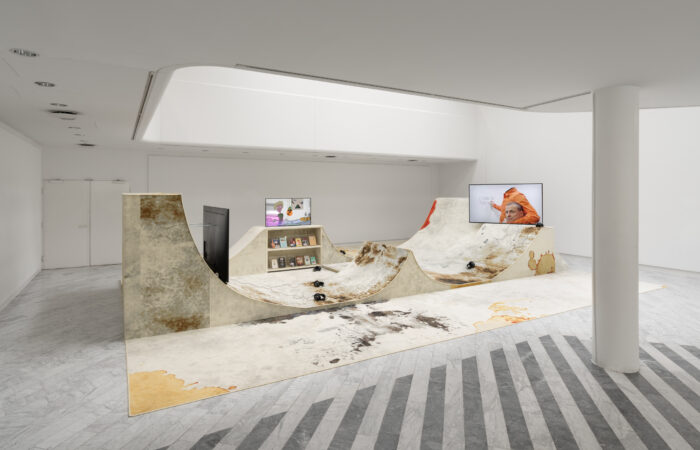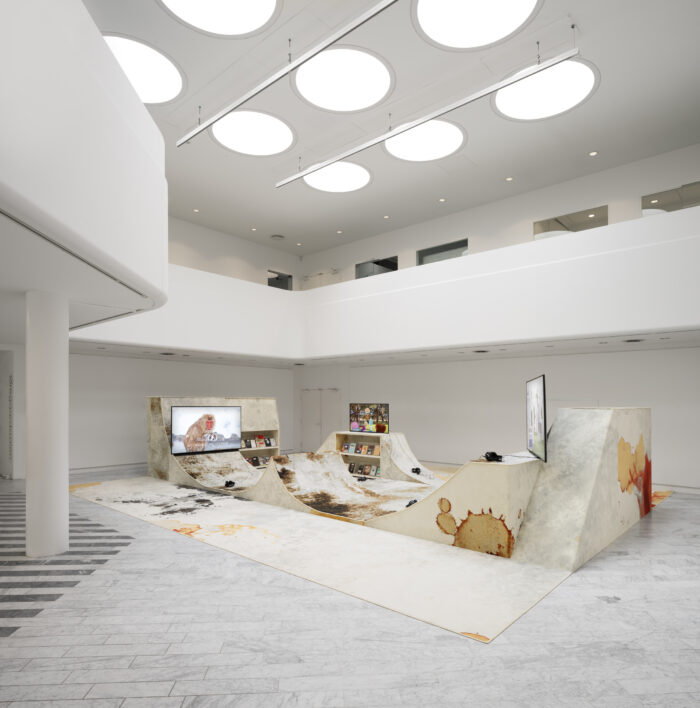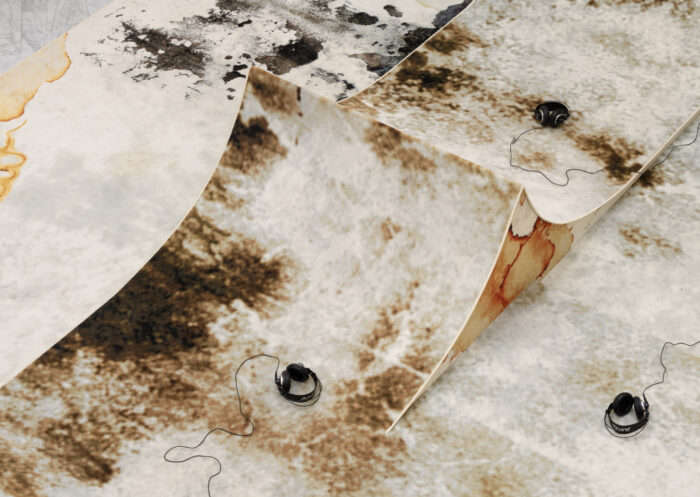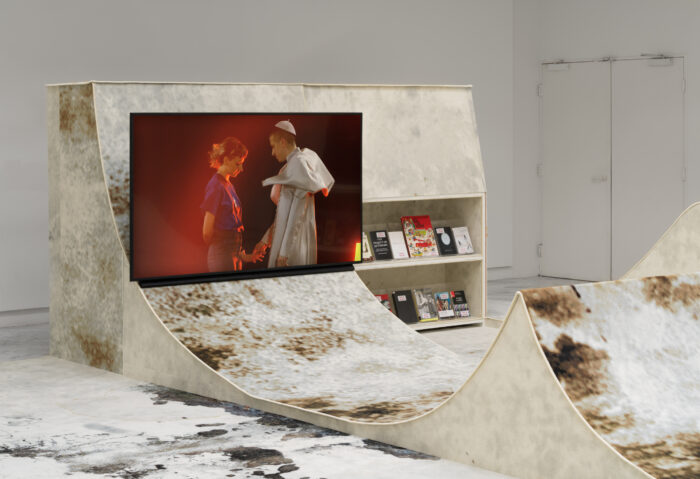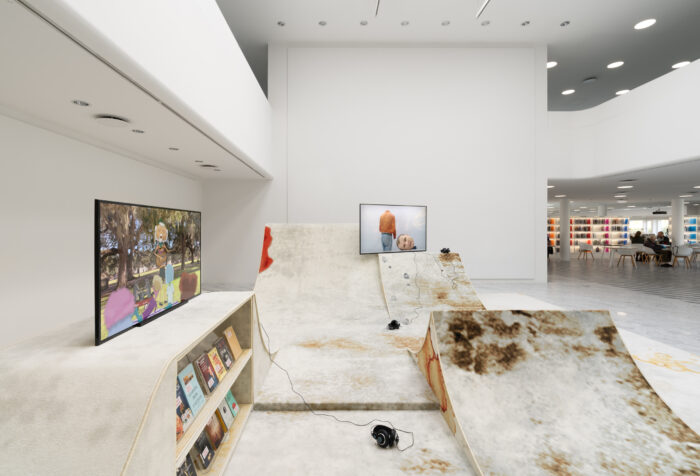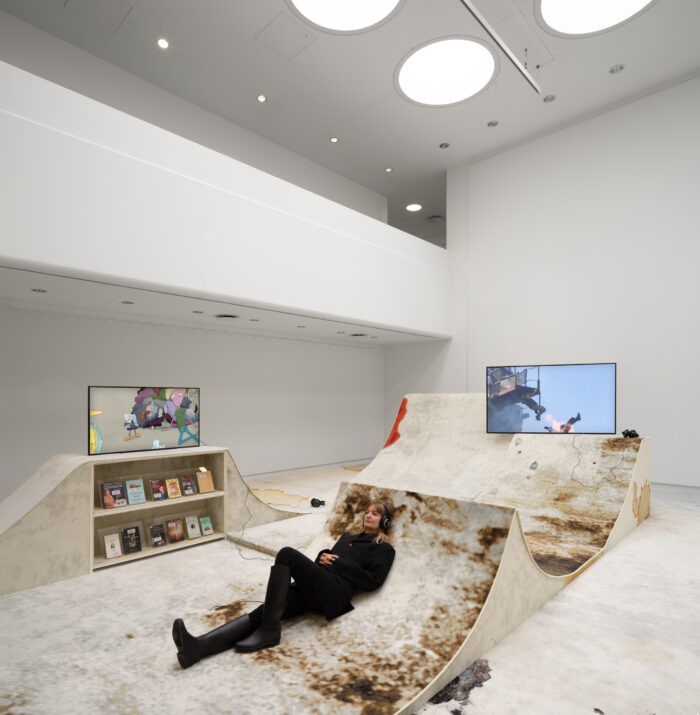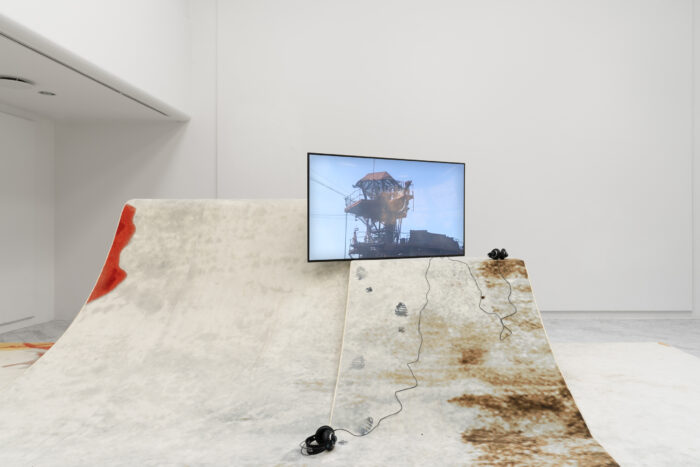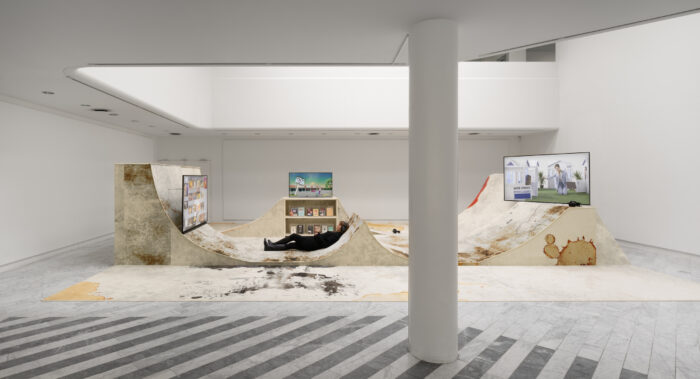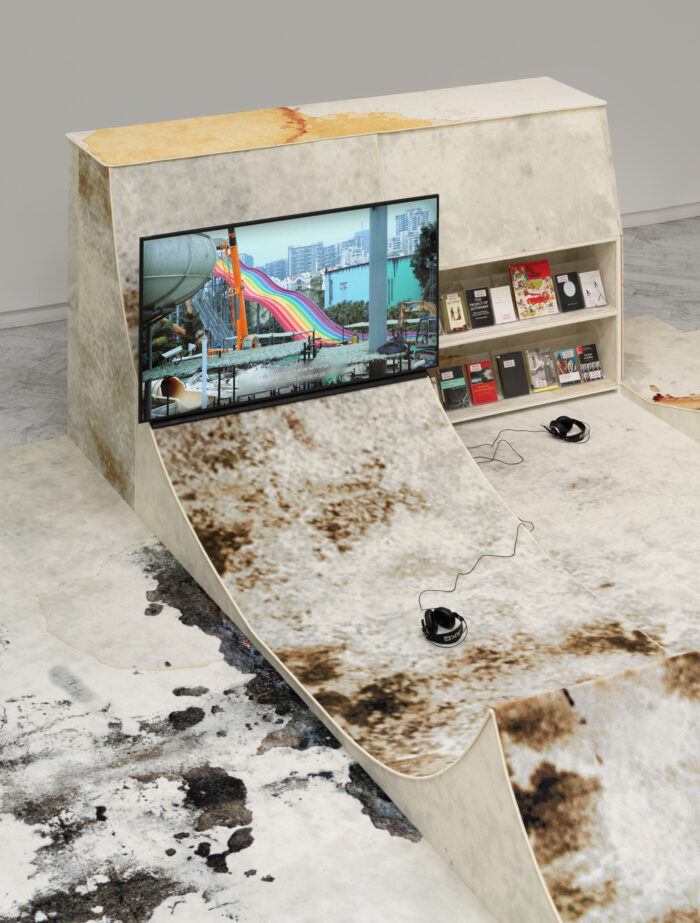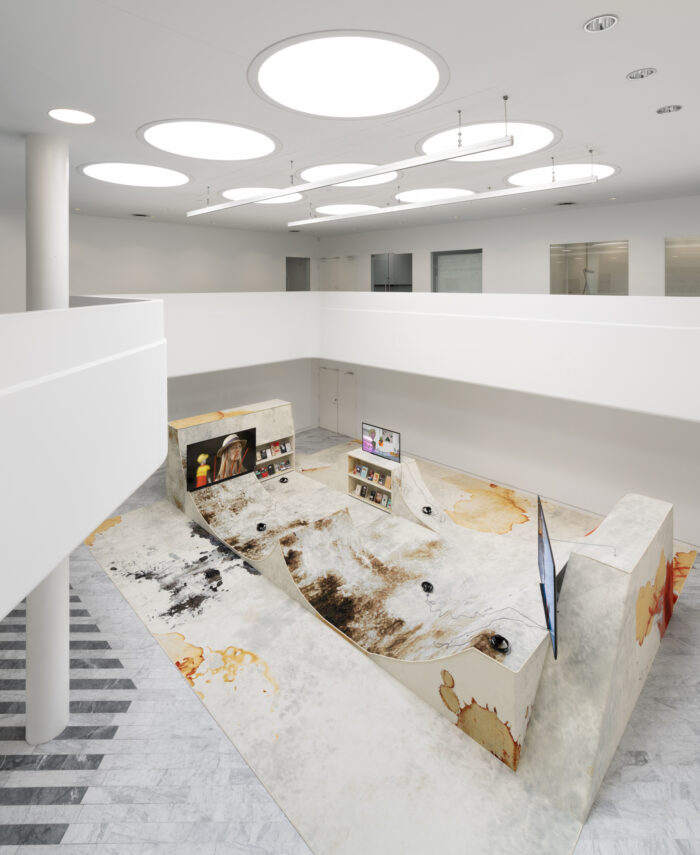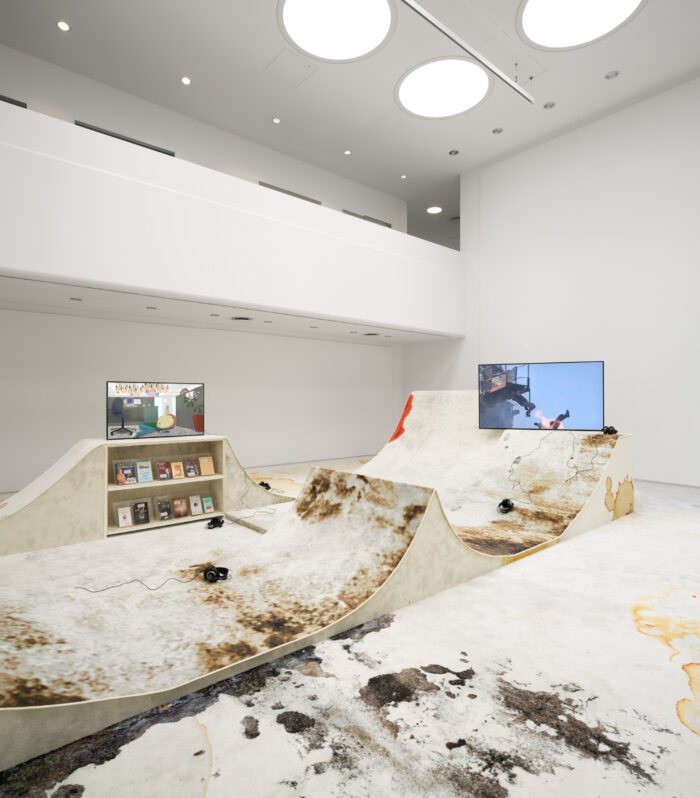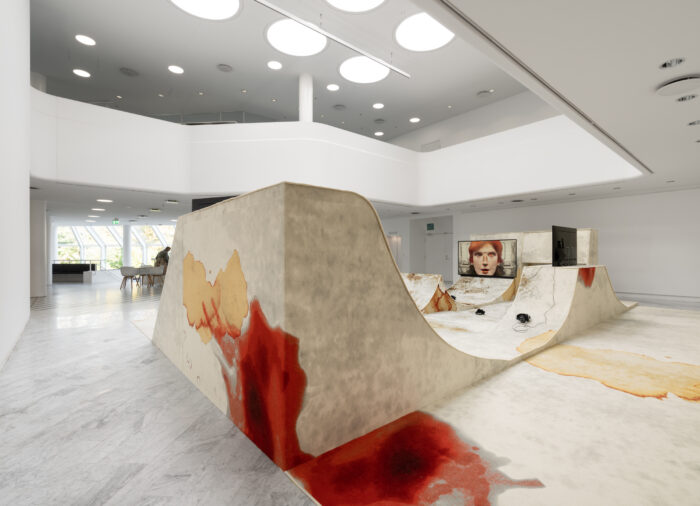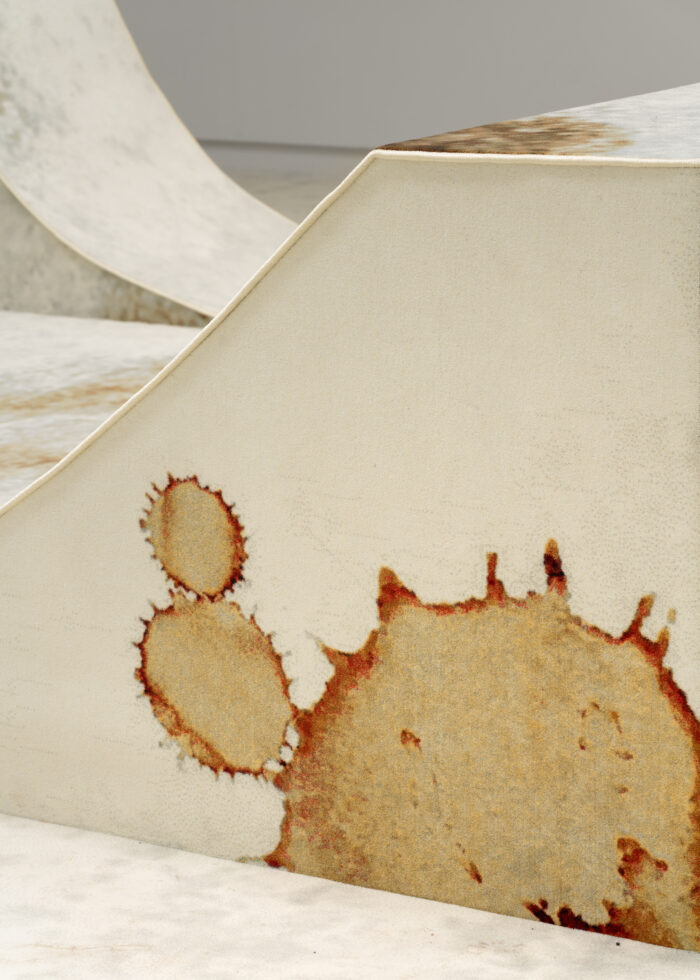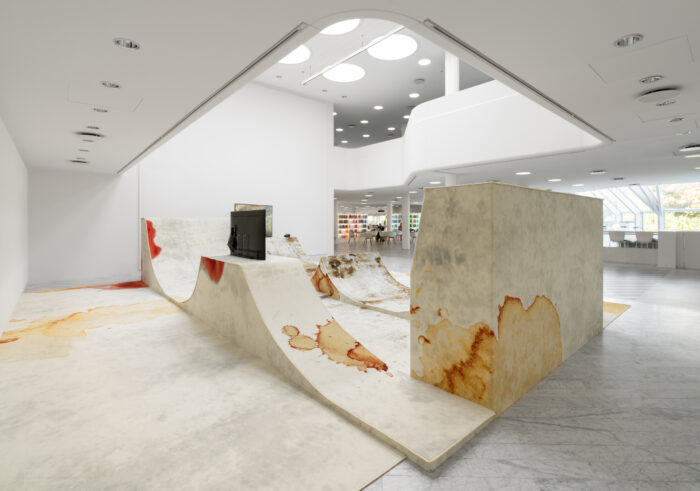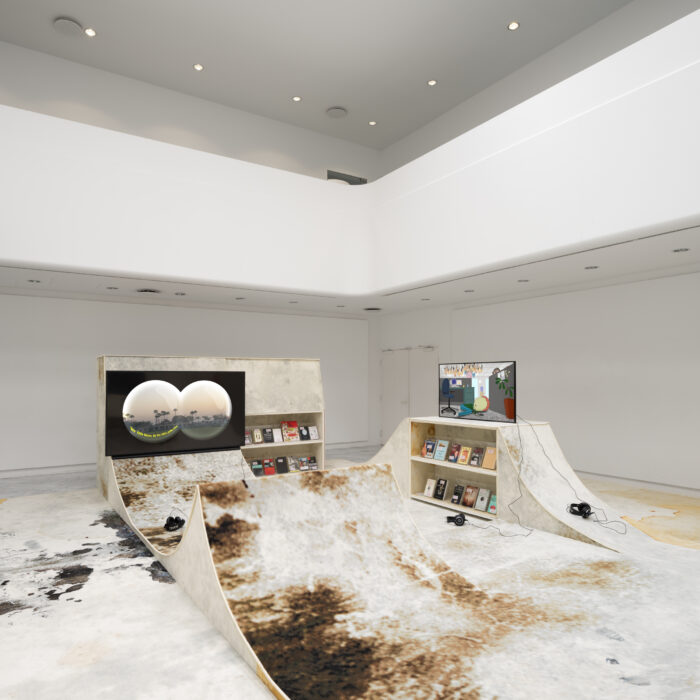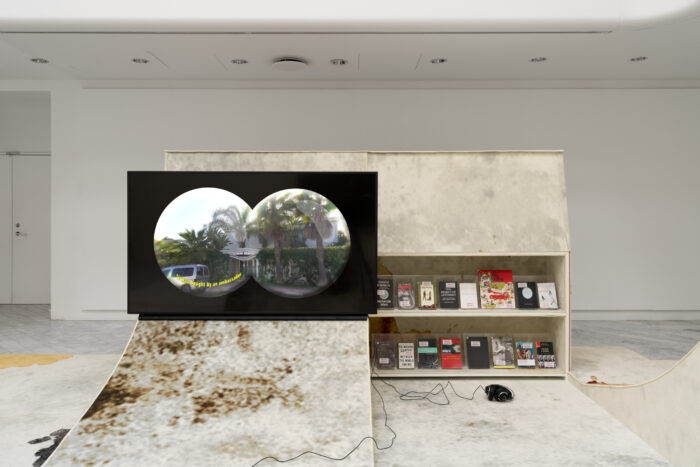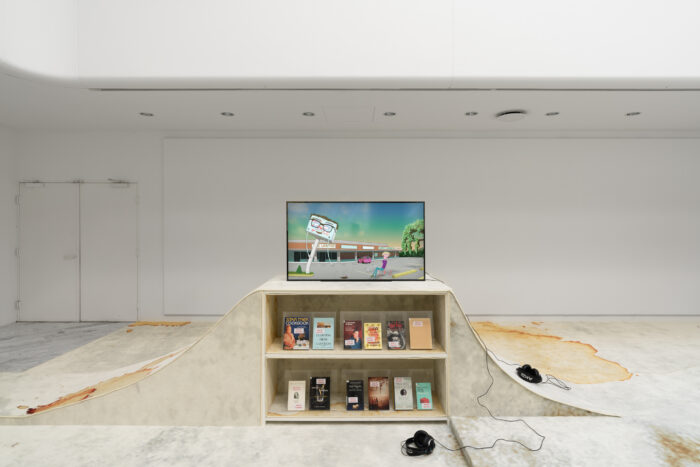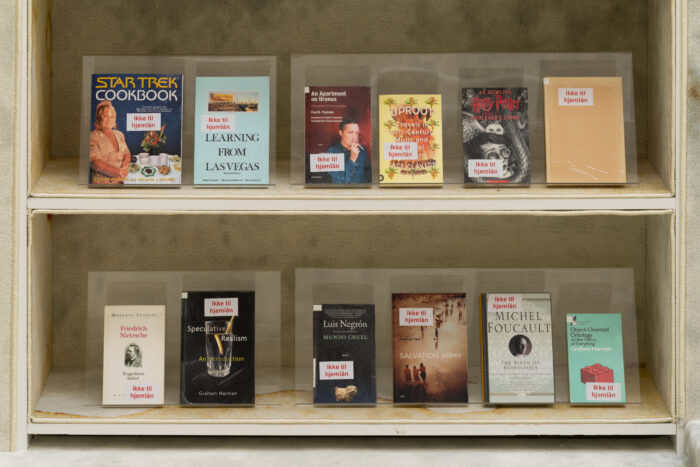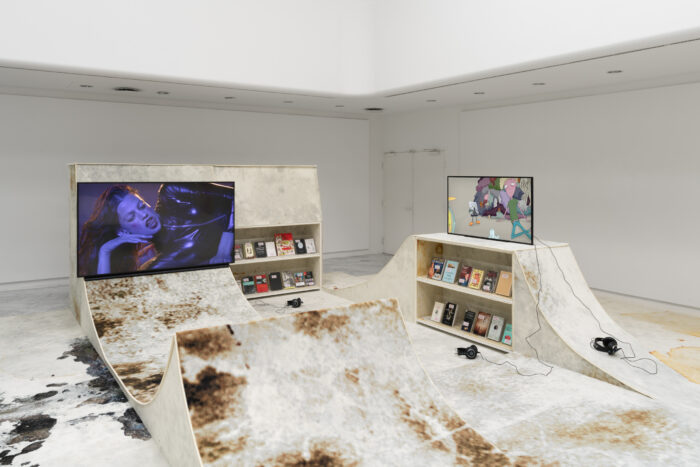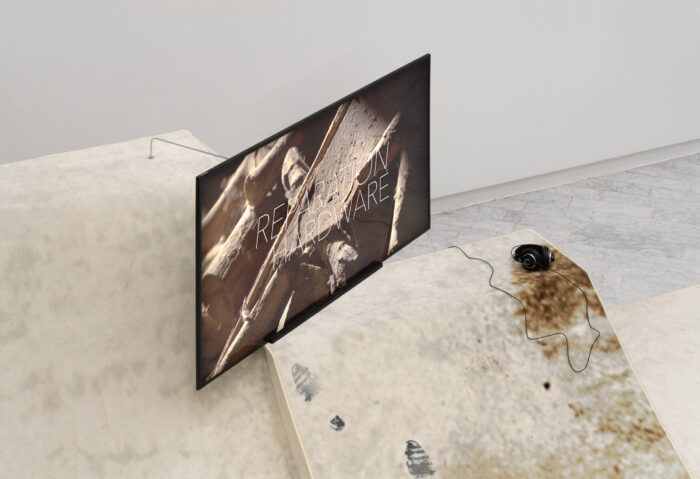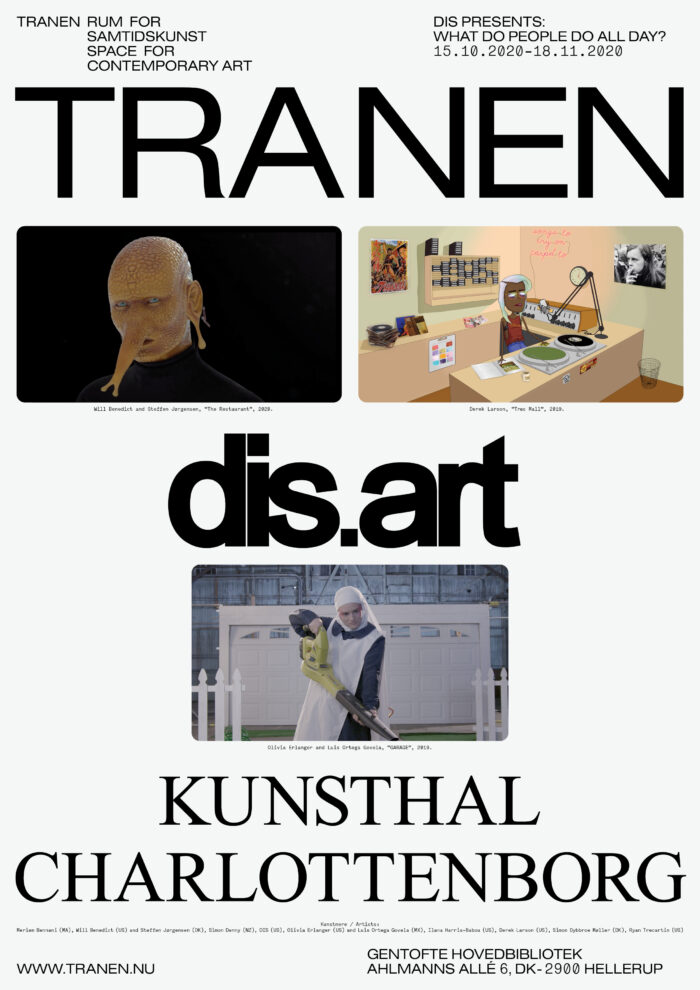 Meriem Bennani (MA), Will Benedict (US) & Steffen Jørgensen (DK), Simon Denny (NZ), DIS (US), Olivia Erlanger (US) & Luis Ortega Govela (MX), Ilana Harris-Babou (US), Derek Larson (US), Simon Dybbroe Møller (DK), Ryan Trecartin (US)
I starten af 10'erne satte kunstnerkollektivet fra New York, DIS, dagsorden i den internationale kunstverden. Deres webmagasin DIS Magazine, der var opdelt i sektioner som Discover, Dystopia, Disco og Discussion, lignede intet andet på nettet. Hurtigt blev de talerør for en ny generation af kunstnere, indtil de lukkede i 2017.
I 2018 genopstod DIS som dis.art, også kaldet samtidskunstens svar på Netflix. I samarbejde med kunstnere, tænkere og kreative kræfter fra det meste af verden præsenterer DIS nu serier, dokumentarer og film hinsides velkendte genrer og formater. På hjemmesiden kan man streame futuristiske køkkenprogrammer, filosofiske tegnefilm, børne-tv med mere. DIS beskriver deres ukonventionelle hybrid mellem underholdning og uddannelse som en måde at tænke vores foranderlige verden på.
Udvalgte højdepunkter fra dis.art kan nu ses på udstillingen DIS presents: What Do People Do All Day?, der er udviklet i samarbejde med Kunsthal Charlottenborg og CPH:DOX. Udstillingen er bygget op omkring DIS' aktuelle interesser: tilhørsforhold i en rodløs, netværket verden, forstadslivets fremkomst, kunstig intelligens, forholdet mellem teknologi, magt og verdensopfattelser samt fremtidens arbejde.
"Miljøet kollapser, og vi bruger vores tid på at klikke og scrolle, videresende billeder og sjældent læse hinsides overskrifterne, alt imens den dybere historie bliver stadig mere umulig at få greb om. Men selv i vores teknokapitalistiske nutid findes der folk, som serverer mad, gør rent og transporterer ting fra ét sted til et andet."
Titlen What Do People Do All Day? stammer fra Simon Dybbroe Møllers nye værk, der er en opdatering af Richard Scarrys børnebog Den Travle By fra 1968, hvor nuttede dyrefigurer udfører en række velkendte jobfunktioner.
Til udstillingen har DIS designet et tæppebeklædt interiør til Tranens rum i krydsfeltet mellem læsesal, rampe og interaktivt klasseværelse. Gulvtæppe og fladskærme skaber et hjemligt og uformelt miljø. Gulvtæppet er påtrykt pletter af vin, kaffe og beskidte skomærker, men også aftryk fra maskiner: oliepletter og skridspor fra maskindæk.
DIS ønsker, at deres indhold ikke bare præsenteres i biografer og mørklagte gallerirum men også på telefonen eller computeren som en del af hverdagslivet. Filmene præsenteres som en informationsstrøm, man kan zappe ind og ud af.
Udstillingen er resultatet af et samarbejde mellem DIS og Tranen, der deler ambitioner om at etablere nye indgange til kunst for et større publikum. I USA samarbejder DIS med biblioteker ligesom Tranen, og deres film distribueres internationalt til skoler og universiteter. Siden 2018 har begge parter vist kunst ledsaget af læselister, der bl.a. præsenterer de mange områder hinsides billedkunst, som optager og inspirerer kunstnerne. I tråd med denne ambition er et lille bibliotek bygget ind i selve udstillingen, der giver publikum mulighed for samtidigt at orientere sig i kunsten og litteraturen.
Man kan søge mere information om enkelte programmer i folder og på dis.art, der takket være samarbejde med Bikubenfonden streames gratis i Danmark til 31. december.
Udstillingen er støttet af Augustinus Fonden, Beckett-Fonden, Bikubenfonden, Knud Højgaards Fond, Det Obelske Familiefond og Statens Kunstfond samt sponseret af Egetæpper, Genbyg og Imagework.
SCREEN 1:
Ilana Harris-Babou, Reparation Hardware E1 Reparation Hardware, 2018
[04'05'']
Refurbishing is a chance to make it right, and as Ilana Harris-Babou proposes in Reparation Hardware, it's an opportunity to recognize the condition of failure that is America so we might imagine a place that hasn't happened yet. Like the "restored" furniture that dots the home with signs of success, the American Dream is suspended between romantic past and idealized future. Its seeming inevitability makes sleek and new a violent, fractured reality that is undone by reparations of lost wealth. Reparations take the worked over and sanded down myth of the American Dream and make it rusty and worn. Built on oppression and exploitation, the reality of the United States cannot continue to be smoothed and stained over; its legacy bears marks into the present that must be repaired and repaid to be reclaimed.
Ryan Trecartin, Interstitial, 2018
[01'05'']
Olivia Erlanger & Luis Ortega Govela, GARAGE E1 Marge's Intro, 2019
[04'30'']
Olivia Erlanger & Luis Ortega Govela, GARAGE E2 Seduced by Suburbia, 2019
[04'27'']
The land of the American Dream is the land of the American Dreamer, or really, mythmaker. Apple employees once described Steve Jobs's uncanny ability to make reality out of fiction, by telling untruths that people got so hyped about that they helped accomplish whatever he was after, as the operation of a Reality Distortion Field, a term they borrowed from Star Trek. The garage has been the site of RDFs since its inception—from startups to garage bands to teenage escapes and man caves. Even its very history […] has been one of reality disconnect, distortion, and re-invention.
Ryan Trecartin, Interstitial, 2018
[01'05'']
DIS, General Intellects with McKenzie Wark E1 Chantal Mouffe, 2018
[06'02'']
It seems we've lost our heads—no need for a brain when we've got thumbs that type and swipe, seeking out knowledge from a glut of online information too expensive for any one's mind to hold. And with the head has gone that stalwart of critical consciousness, the public intellectual. Instead, as media theorist McKenzie Wark terms it in her book of the same title, we have General Intellects—thinkers, who, when constellated, create a collective picture of our world […] General Intellects are guides to this brave new world, helping us understand how to be and see our own bodies and societies under technological capitalism […] McKenzie Wark zeroes in on political theorist Chantal Mouffe, who proposes new means of gaming conflict in the political sphere and offers an alternative understanding of the "political" as a deeper concept underlying Liberal Democracy.
Ryan Trecartin, Interstitial, 2018
[01'05'']
Meriem Bennani (MA), Will Benedict (US) & Steffen Jørgensen (DK), Simon Denny (NZ), DIS (US), Olivia Erlanger (US) & Luis Ortega Govela (MX), Ilana Harris-Babou (US), Derek Larson (US), Simon Dybbroe Møller (DK), Ryan Trecartin (US)
At the beginning of the 2010's, the artist collective from New York, DIS, set the agenda in the international art world. Their webpage DIS Magazine, which was divided into sections such as Discover, Dystopia, Disco and Discussion, didn't look like anything else on the Internet. Quickly, it became a platform and mouthpiece for a new generation of noteworthy artists until it closed down in 2017.
DIS resurfaced in 2018 as dis.art, also known as the Netflix of contemporary art. In collaboration with artists, creatives and thinkers from around the world, DIS now presents series, documentaries and films that dodge well-known genres and formats. The platform dis.art streams otherworldly cooking shows, philosophical animated series, documentaries, children's TV and more. A wry hybrid of entertainment and education, DIS describes the project as a way to think about our shifting reality.
Selected highlights from dis.art are now on display at the exhibition DIS presents: What Do People Do All Day?, which is developed in collaboration with Kunsthal Charlottenborg and CPH:DOX. The show is hinged on DIS's current fixations: the nature of 'belonging' in a rootless, networked world; the advent of suburbia; artificial intelligence; the relationships between technology, vision, and power; and the future of work:
"The environment is collapsing and we spend our days clicking and scrolling, recirculating images and rarely reading beyond headlines, while the deeper story becomes increasingly impossible to grasp. Despite our technocapitalist present, people still serve meals, clean spaces and transport things from one place to another."
The title What Do People Do All Day? is taken from Simon Dybbroe Møller's new episodic series, a contemporary update to Richard Scarry's 1968 children's book of the same name in which cute animal characters embody their straightforward professions.
For the exhibition, DIS has designed an interior for Tranen's space somewhere between a reading hall, half-pipe, and interactive classroom. Carpet and flat screens create a domestic and informal setting. The carpet is imprinted with traces of life — a canvas of accidents; the coffee stain, the wine stain, the pee stains, the dirty footprint but also of machines: the drips of oil, the skidmarks from tires. DIS does not simply want their content to be presented in cinemas and darkened gallery spaces but also on phones, computers and other devices of everyday life. At Tranen, the films are presented as a stream of information which you can tune in and out of as you please. 
The new exhibition is the result of a dialogue between DIS and Tranen, which share the ambition of establishing new entry points to art for a wider public. In the States, DIS collaborates with libraries similarly to Tranen and distributes to universities and schools internationally. Since 2018, both platforms have been showing art accompanied by reading lists that among others point to the various areas beyond the artistic realm, which preoccupy and inspire the artists. In line with this ambition, the homely interior is furnished with a small library affording visitors the opportunity to freely vacillate between films and books as they see fit.

More information on the specific works on display are available in the folder or on dis.art, which streams for free in collaboration with Bikubenfonden all across Denmark until December 31st.
The exhibition is supported by Augustinus Fonden, Beckett-Fonden, Bikubenfonden, Knud Højgaards Fond, Det Obelske Familiefond and Statens Kunstfond, and sponsored by Egetæpper, Genbyg and Imagework.
SCREEN 2:
Simon Denny, Real Mass Entrepreneurship, 2017
[14'57'']
How do you provide a social safety net for 1.4 billion people? Maybe they could provide it for themselves. If everyone were to be an entrepreneur, people's futures could be self-made, sparing the social burden of providing for all. At least that's what President Xi Jinping is proposing for China. To investigate, Simon Denny went to Shenzhen, where there's been a boom of "mass entrepreneurship" […] Makers see themselves changing the world but the best intentions don't necessarily mean the best results. Perhaps instead of mass producing new technology, what is actually being mass produced is mythic individualism.
Will Benedict, All Bleeding Stops Eventually, 2019
[00'40'']
Responding to the IPCC's Special Report on the Ocean and Cryosphere in a Changing Climate, the anthropomorphic subjects of Will Benedict's video, All Bleeding Stops Eventually, have a message for us humans.
Written in collaboration with Chus Martinez and commissioned by TBA21-Academy.
Will Benedict & Steffen Jørgensen, The Restaurant E5 Degrees of Disgust, 2020
[10'35'']
What are the ethics of getting a ton of milk to make nasty cheese in the age of global warming? We're so out of touch that even our machines are mad at us. Siri can berate you and refuse to help; your microwave might taunt you, its threatening beeps trying to bend you to its will. Our endless quest for information has set us into a spiral of search engine ennui escape.
Meriem Bennani, Neighborhood Goggles, 2019
[02'47'']
In Meriem Bennani's Neighborhood Goggles, the homes of Rabat, Morocco come to life to tell their stories, to share the habits of their occupants, to compete with one another in their opulence or modesty, or to lament their post-bankruptcy plight. What their owners might keep hidden from us, these buildings are quick to reveal to one another.
Simon Dybbroe Møller, What Do People Do All Day E1 Everyone is a Worker, 2020
[06'33'']
Simon Dybbroe Møller's series What Do People Do All Day is a contemporary update to Richard Scarry's 1968 children's book of the same name. Replacing the original's drawings of cute anthropomorphized animals doing people-things in industrious and purposeful Busytown, with real-life neurotic humans operating in the schizophrenic terrain of the twenty-first century, Dybbroe Møller juxtaposes Scarry's idealistic "everybody is a worker" ethos with the "everything is work" reality of technocapitalism.
SCREEN 3:
Derek Larson, Très Mall E4 Southern Gothic, 2019
[32'18'']
Très Mall follows three artists living in Savannah, Georgia through their various misadventures—both real and trippingly dreamed. The bleary-eyed protagonist, Jon, has inherited a vacated strip mall which he uses as a site of shifting, uncertain ambitions that don't seem to go anywhere.
Anbefalet læsning /
Recommended reading

:

Udgivelsesår / Publication date

Agonistics: Thinking The World Politically

Our Aesthetic Categories: Zany, Cute, Interesting

Pornotopia: An Essay on Playboy's Architecture and Biopolitics

General Intellects: Twenty-one Thinkers for the Twenty First Century

Olivia Erlanger & Luis Ortega Govela

Robert Venturi, Denise Scott Brown, Steven Izenour

Object Oriented Ontology.

Speculative Realism: An Introduction

Ethan Phillips, William J. Birnes

Paul B. Preciado. An Apartment on Uranus

Uproot. Travels in 21st Century Music and Digital Culture

The Birth of Biopolitics: Lectures at the Collège de France, 1978-1979

Mary Ann O'Donnell, Winnie Wong, Jonathan Bach

Learning from Shenzhen: China's Post-Mao Experiment from Special Zone to Model City

What do people do all day?