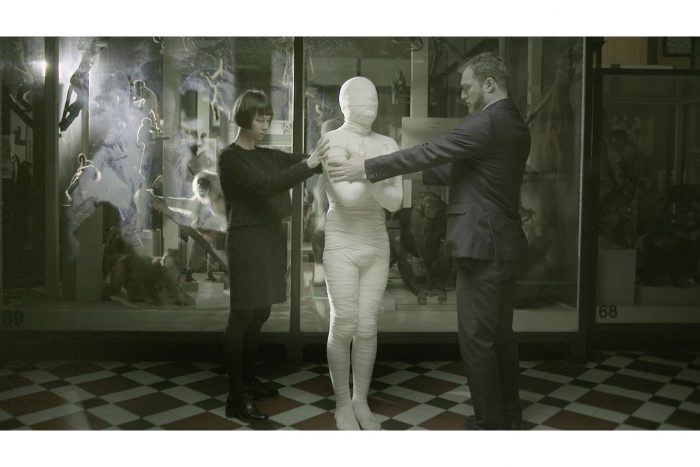 A talk with Anselm Franke & Anton Vidokle about Cosmism and public institutions
29.03.2019,17:00–19:00
Humanity is destined for eternal and interplanetary life. Thus spoke Russian philosopher Nikolai Fedorov (1829-1903), whose philosophy went on to trigger a highly influential movement which has later become known as cosmism. His legacy lives on in the writings of Dostoevsky and Tolstoy, the paintings of Malevich, the films of Tarkovsky and the pioneering rocket science of Tsiolkovsky. It resonates in current debates about anything from transhumanism to climate engineering. And his writings are at the core of Russian artist Anton Vidokle's current exhibition at Tranen, "This is Cosmos", which delves into the history and ideas of cosmism.
Fedorov was for the latter part of his life working as a librarian in Moscow's first public library and museum, The Rumiantsev. He came to regard such depositories of books and artworks not merely as cemeteries, but potential sites for resurrection of the dead, be it artists, authors or ultimately anybody who ever lived. For museums and libraries, he thought, "death itself is not the end but only the beginning."
The talk "THE MUSEUM LIBRARY AS RESURRECTION LAB" takes Federov's ideas about museums and libraries as starting point for a conversation with artist Anton Vidokle and curator Anselm Franke, who both oftentimes work somewhere between art and publishing. In 2017 they collaborated on the exhibition project "Art Without Death: Russian Cosmism" to which Tranen's current show is indebted.
Anselm Franke is Head of Visual Arts and Film at Berlin's Haus der Kulturen der Welt, which hosted "Art Without Death: Russian Cosmism" (2017). Franke is known for his comprehensive groundbreaking "essay exhibitions" and research projects such as "Animism" (2010-2014), "The Anthropocene Project" (2013-14) and most recently "Neolithic Childhood" (2018). He has among others also curated the Shanghai Biennial (2014), the Tapei Biennial (2012) and manifesta 7 (2008).
Anton Vidokle lives in New York and Berlin. He is the founder of the publishing platform e-flux, which has sparked projects such as e-flux video rental, an exhibition space in New York and e-flux publications, including the widely read, agenda-setting e-flux journal. Films from "Immortality For All: a film trilogy on Russian Cosmism" have been shown at numerous museums, such as Centre Pompidou, Paris (2016) and Tate Modern (2017), and various festivals and biennials, including Shanghai Biennale (2014), 65th Berlinale International Film Festival (2015), and the 7th Gwangju Biennale (2016).